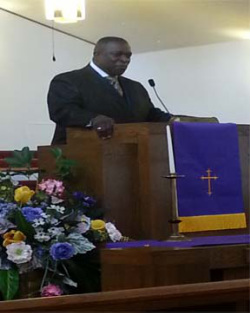 Biography of
Administrative Assistant Elton Amos, MD
Pastor@OldLandmark.com
Elton Amos, M.D
., was born in the state of Mississippi, and at 3 years old migrated with his family to Fort Wayne, Indiana. There he was raised @ Hayden Street Church Of God In Christ. As a young man, fluent in German and Spanish, he prayed to God for direction and made an agreement to serve him, and never forsake the gospel, as he entered into medical school. Married in 1979, to Edna E. Amos they have 2 sons, one daughter, a daughter in-law, and 4 grandchildren. He was called to preach in 1981, he graduated from Indiana University School of Medicine in 1984, later ordained in 1986. Dr. Amos started his private practice in 1987.
RELIGIOUS ACTIVITIES
National Healthcare
Director, Global Health and Wellness
Church Of God In Christ, INC
- a Not-for-Profit agency that provides healthcare to the needy in emergency conditions, and recommending standards for schools, clinics and orphanages around the world.
One of his major projects was developing a free clinic in Haiti following the great earthquake in January of 2010. Dr. Amos led a medical team of volunteers, that continue to work today, providing health services to thousands, in a suburb of Port-au-Prince at no cost, with materials supplied by donors from America.
Executive Committee Member of the National Leadership Conference
Executive Committee Member of the Men-Perfecting-Men Conference
Administrative Assistant Tennessee 4th Jurisdiction
District Superintendent of Churches of the Nehemiah District, Tennessee 4th Jurisdiction
Selected a COGIC contributing editor to the "African-American Devotional Bible"
Which was published in1997.
In 1990 founder and current pastor of Old Landmark, Fort Wayne, IN & New Seasons Fellowship Ministries, Indianapolis, IN in 2007.
ACADEMIC AND COMMUNITY ACTIVITIES
2011 Concentra Physician
Urgent Care and Occupational Health Facilities
2004 State of Indiana Medical Director for Department of Correction
Member of the Fort Wayne Urban League
Board Certified by the American Academy of Family Practice, (AAPP) and appointed Diplomat status
Also Dr. Amos was in private practice in Fort Wayne, Indiana from 1987 through 2004
Consultant to President George Bush's Faith Based Initiatives
Founder and Medical Director of the 21st Century VICTORS Program
A Fellow of the International Society on Hypertension in Blacks
Certified in Chemical Dependency Treatment in 1989
Graduate of Indiana University School of Medicine in 1984
Post Graduate Science Division studies in 1977-79 at Marquette University
Indiana University Graduate from the College of Arts and Sciences in Germanic & Hispanic Languages in 1977
---